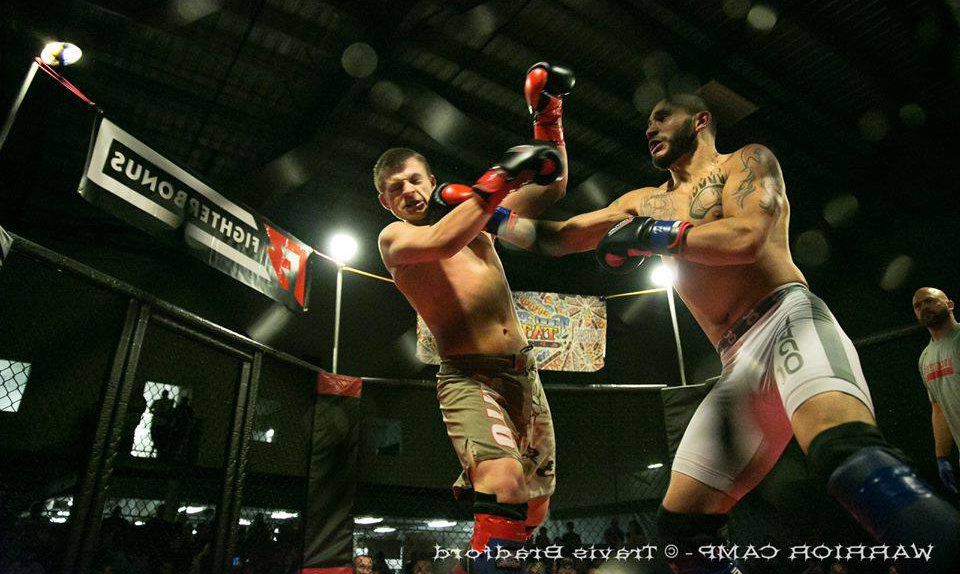 WarriorCamp Mission Statement "Warrior Strong"
Whether you are looking for a workout to get the whole family involved in, train for a competition, or push your current fitness level, WarriorCamp provides an encouraging environment to support whatever your health and wellness goals may be. Our philosophy has always been: Affordable class prices and great people. Your first week at WarriorCamp is always FREE! We want you to get a feel for the class schedule, coaches, equipment, etc. so we can help choose the best membership for you based on your personal fitness goals. We are confident that if you step foot in the door, you will love what WarriorCamp has to offer!
Pablo "The Hurricane" Alfonso is the head coach of the Warrior Camp's here in Spokane, WA and in Coeur D'Alene, Idaho. Pablo has trained for over 20 years and is a second degree Black Belt in Brazilian Jiu Jitsu and a retired professional MMA Fighter. He runs the BJJ programs and the professional Warrior Camp Fight Team.  Pablo is an active pro grappler and a EBI and CJJ veteran, He is very technical and has many years of knowledge in both BJJ and MMA. 
Head Muay Thai Instructor
Head Muay Thai Instructor for Warrior Camp, CJ Phillips, coaches Elite Muay Thai and has a long extensive career as a Muay Thai Fighter and Coach. He has been in the Art for over 15 years. CJ originally trained at Authentic Muay Thai, Tempe AZ under Kru "Rick" (Sityodtong Thai Boxing Camp under Yod Tod Senanan and Phedrungrang Boxing Camp in Pattaya Thailand) and Coach Brent Reeves at Trevor Prangleys AKA in Coeur D'Alene, ID. CJ fought for the Friday Night Fights Muay Thai venue, Canadian Muay Thai Association circuit, Absolute Chaos venue, USEACA Cultural Event venue and local Spokane venues. CJ also was inducted into USEACA (United South East Asia Cultural Assosiation) organization in May 2013 under Master John Chamkunthod, Kru Ryan R-Sin Simeon (South Sound Martial Arts, Tacoma WA) and Kru Thongsai Sanhtytham (Thongsai Muay Thai, Eugene OR). Our Warrior Camp Muay Thai program is complete and can accommodate beginners to pros with proper fighter/ring I.Q. from CJ or his personally trained assistant coaches and fighters.  
Four-time 5A Idaho state champion at 106-120-138-145 weight division. Multiple time All American  with 20 years of wrestling experience. A decade of coaching experience with a  background from Real life ministries. Alius and his brother A.J Delarosa also a 3-time 5A Idaho state champion 4-time finalist, run the wrestling program as a satellite club here at Warriorcamp. We started this program to get access to the Delarosa's with their technical training and winning reputation.  Contact Alius directly for training. Alius- 509-863-6027

Joel Thomas is an undefeated professional Mixed Martial arts fighter, Entrepreneur, Gym Owner (WarrioCamp), and President of FighterBonus Corporation (FighterBonus.com). In competition Thomas is known as a well-rounded fighter with backgrounds in multiple facets of the sport. Thomas' styles include Wrestling, Judo, Jiu Jitsu, Muay Thai Kickboxing, and Boxing. Thomas started his martial arts career with wrestling at the age of 6 for Spokane Junior Wrestling. A few years later (age 8) he began attending Judo classes at Pacific Judo Academy, achieving a rank of green belt after 3 years of competition and training. While attending West Valley High School Thomas competed in sports year around. Thomas was a varsity starter all four years in wrestling ending as captain of the team as a senior. Thomas ended high school with varsity letters in Wrestling, Football, Baseball, and Track and experience in golf and kickboxing. Thomas got accepted to three schools with wrestling programs and choose Central Washington University. During his first year of enrollment Central dropped two programs, Wrestling and Swimming. Thomas being a well-rounded athlete joined the Varsity Track Team, competing in the pole vault and 400 m Dash. During his first year at college Thomas still frequented the Wrestling room to get little workouts in with his friends. One day while working out Bryan Caraway and JJ Mix entered the room and started free rolling and practicing MMA. This intrigued Thomas very much, so he asked to join in. A month later Thomas was supporting his new teammate Bryan Caraway for his first title fight against Chanti Johnson. During the event a 3-0 fighter entered the ring and his opponent was nowhere to be found. A nervous but confident 19 year old Thomas decided that he would take the opponent's place and try out MMA for the first time. During Thomas' college days he had an overall record of 16-4 and a professional record of 3-0. During the rise in Thomas' fight career an injury lead him to finish out his Bachelor's degree at Central Washington University and open WarriorCamp in his hometown of Spokane, WA. During the first year of operation Thomas also broke into the realm of promotions, starting up an amateur MMA event called Proving Grounds. Thomas' business slowly became profitable after about 1 years time. In March of 2013 Thomas opened FighterBonus Corporation, a worldwide company focused around MMA and the fans of MMA. Now, Thomas runs Multiple Companies and is training out of his hometown for chance to fight in the UFC.
Book A Private Session With joel